 Decorative Iron Works has been a family owned business since 1955 and has established a reputation as the best architectural metal fabrication company in the Northern New Jersey and Greater New York City area. Our work can be found at the following locations:

•

Grand Central Station, NY
•

New York Federal Reserve Bank
•

The former World Trade Center
•

Liberty Island (Statue of Liberty)
•

Liberty State Park, NJ
•

High Point State Park, NJ
•

Numerous places of worship
•

Numerous federal buildings
•

Many restaurants and businesses
•

Countless homes and apartment complexes
•

A home near you!
For a list of metal fabrication services that we provide refer to
services
.
We specialize in working with real estate management and construction companies. Despite all the large projects Decorative Iron Works has been a part of, a large part of our work is done at private households. Trust Decorative Iron Works for the highest quality work at a fair price for the next set of railings at your home or business.


Railings - Stairs - Fences - Gates - Window Guards - Balconies - Light Structural

Steel - Aluminum - Iron - Stainless - Brass - Bronze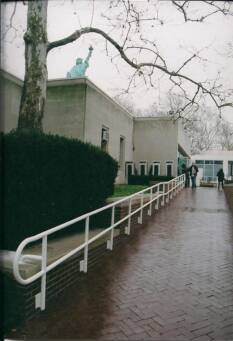 Decorative Iron Works has been turning visions into reality for over 55 years.

Copyright 2012: Decorative Iron Works | Wrought Iron Railings New Jersey | All rights reserved.

P.O. Box 21, Hibernia Hibernia, NJ 07842